Technology Information
CLAREX Technology Platform
We customize or develop many customer requested products by combining our original Technology Platform described below.
CLAREX Technology Platform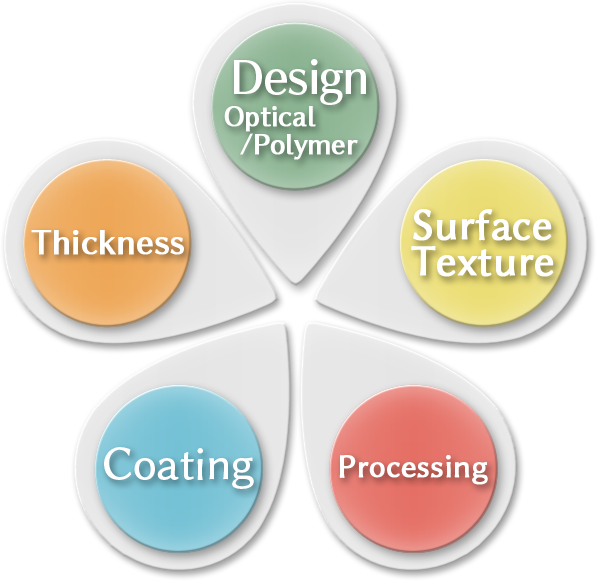 Design Technique
Optical Design … (Ref: CLAREX Contrast Enhancement Technology)
・Spectrum Control … UV / NIR / Laser Scanner Filter etc.
・Light Distribution … HSOT LightGuide / Projection Screen etc.
Polymer Design
・Heat Resistant PMMA / Low moisture absorption PMMA etc.
Tickness Control (0.2mm~130mm)
CLAREX Precision Sheet … 0.2~5.0mm
CLAREX General Sheet … 2.0mm~130mm
Highly Smooth & Flat Surface
Glass-like Ultra-Smooth Surface.
Many Non-Glare & Matt surface textures to choose from
One-Side Non-Glare (Matt)
Both-Sides Non-Glare (Matt)
You can choose different Non-Glare texture on one sheet.
Variety of single & multi-layer optical coating
Hard Coating / Scratch Resistant Coating (6H or over)
Anti-Reflection (AR) Coating / Mirror Coating
ITO Coating / EMI Shield
Anti-Bacteria (AB) Coating
Anti-Fingerprint Coating / Anti-Smudge Coating
IR-Cut Coating
From Material Production to Machine Processing
Cutting & NC routing (90°/ V ditch / mirror surface / etc.)
Printing (Silk Screen / etc.)
Mold Processing (Heat Bending / Blow / Press / etc.)
Lamination (UV / Heat / etc.)
If you have any inquiries or requests, please contact us.
(Opens in a new window)