CLAREX

CLAREX Products Line-Up
Below lists are the basic CLAREX product categories. Please refer to each product category for the detail, and feel free to ask for customization or new development.
DRⅢSX (Diffusion Filter)
CLAREX DRⅢSX DIFFUSION FILTER is a Shade Diffuser for backlight with high intensity light source. CLAREX DRⅢSX DIFFUSION FILTER shades lamp-image of high intensity light source and diffuse uniformly.
Features
Available as thin as 0.5 mm, yet able to block up to 95% of light and provide effective diffusion.
Extremely uniform surface brightness.
Available with light transmission from 5% ~40%.
Prevent Newton's ring.
Excellent Optical Characteristics and weather resistance.
Blocks UV ray.
Variety of color is available for customization.
Application
Light diffusion filter for color or monochrome LCD Display, LED lighting, etc.
Basic Line-Ups
Thickness
(mm)
Size
(mm)
DR-05SX
DR-10SX
DR-15SX
DR-20SX
DR-25SX
DR-30SX
DR-35SX
DR-40SX
1.0
400×550
○
○
○
○
○
○
○
○
0.8
400×550
○
○
○
○
○
○
○
○
0.5
400×550
○
○
○
○
○
○
○
○
Construction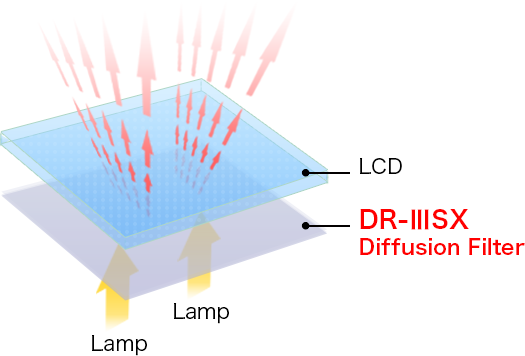 Optical Data
DRⅢSX (Diffusion Filter)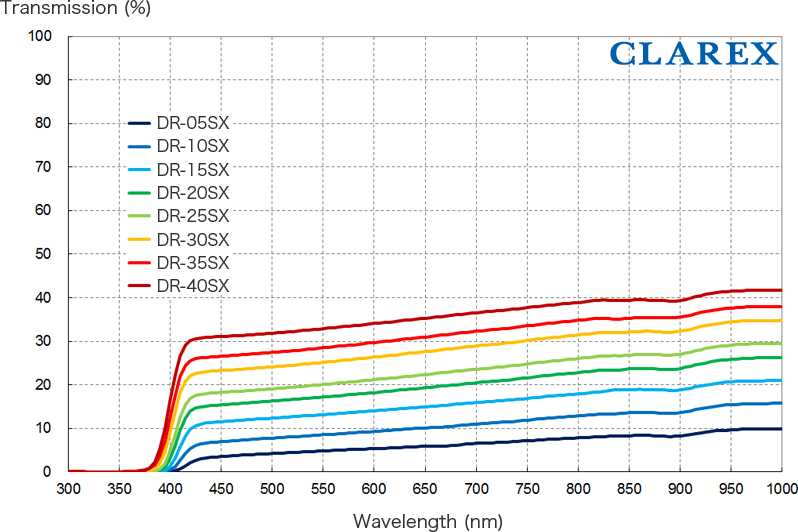 ※ These are our experimental measured values in 1.0mm thick.
※ Value provided cannot be guaranteed in your application due to circumstances beyond our control.